The era of luxury traveling in the 21st century is at its peak with more and more companies devising ways and vehicles to entice the rich and the famous and provide them with the best times of their lives and get them all the worth for their spending. Whether it be the largest yacht in the world, or any other way of travel, luxury travel these days has emerged as one of the most profitable and lucrative businesses.
Keeping in the mind the importance and the trend of luxury travel, Seymourpowell, design and innovation company based in London has introduced the next big thing in luxury travel, in the form of a hydrogen powered floating airship called "Aircruise" and which the company has claimed to be a lighter-than-air vehicle concept. The all new Aircruise is powered by dual energy source and operates by harnessing solar power as well as a primary hydrogen fuel cell that enables the airship to cruise at a maximum speed of 90 mph, thus making this airborne vehicle absolutely environment friendly.
The luxurious Aircruise has been designed and developed to be floating airborne hotel that will be able to accommodate and transport upto one hundred guests from London to New York in an astounding minutes and for the airship to make a journey from Los Angeles to Shanghai, it will take four complete days, while the guests are pampered with absolute luxury and style.
The Aircruise will be comprised of four duplex apartments along with five smaller apartments, on top of a penthouse, bar/lounge/communal zones to ensure that the journey is as pleasant able and enjoyable for the patrons as possible.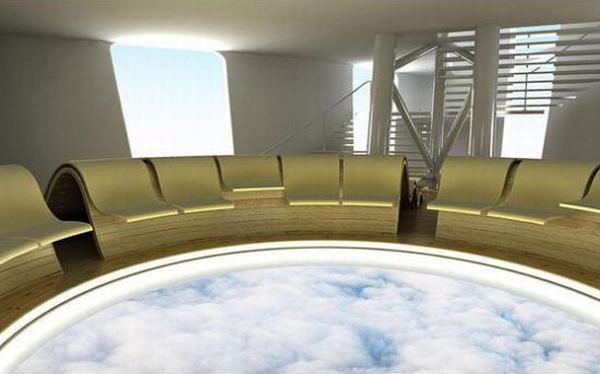 Via Coolest Gadgets