Sexy and kinky is always a huge welcome for those who are forever looking to spice up their lives. And Agent Provocateur is a brand, other than Victoria's Secret, that likes to cater to this demand of theirs. Right now, the fashion label is out with a hot underwire halter neck corset that goes by the name of Heloise. As the name suggests, this one definitely is exotic, and you can find it under the Soirée collection.
From the looks of it, we can say that the fashionable ladies out there will not be thinking twice before shelling out $4,900 for their latest addition to the wardrobe, Helios has been carefully crafted from black ribbed duchess satin. The delicious feel of the exterior gets complemented by the soft black leather lining inside. The neckline is deep and plunging. But more than that, the hand-embellished biker studs accentuating the area is what will capture everyone's attention.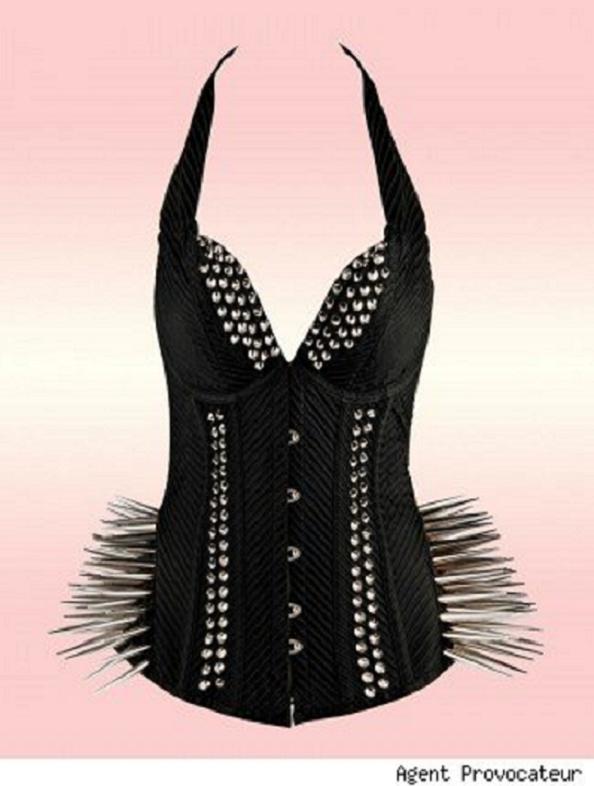 One look at this corset and you will be reminded of Scarelet O'Hara. It has been designed in such a way that it really pulls in the waist. The hips also get emphasised with the 2 inch metal spikes. A pretty hot item but not meant for the faint-hearted. Definitely, no snuggling intended!