Owning a dreamboat is like a pre-requisite to luxury. If you own one, you gotta be rich! Mix that with something unique and outlandish, and you can be sure of being a huge hit with the creme de la creme. Let us introduce you to Concept Speed Boat Vivace26 that has been designed by a whole bunch of creative people like Garret Miller, Heather Witkop, David Robinson, Matt Wysenski & Julian Romero.
The water speedster in question is a two seater but packed with the most amazing of futuristic technology and specs. There is the Audi Rio Lemans Prototype that helps the V12 TDI diesel engine to produce 650 horsepower. A very slick machine, this one has a fully convertible top, joystick steering, OLED display screens as well as several hull stabilizers.
In all honesty, the Vivace26 nothing less than a spaceship but meant for the waters. The colors have been kept metallic with a dull silver front that has black and blue support from behind. A very well though of combination, we must say. Though it will be sometime before this boat becomes a reality, we suggest you start saving up for this one might just burn a hole in your pocket.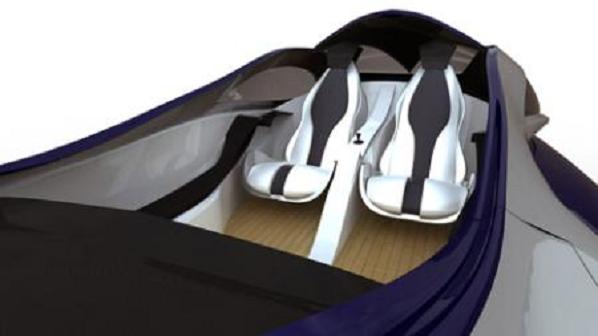 Via yankodesign