This one is like a spaceship that found itself by mistake on the lake water near you. Or like a UFO that turned fancy to let you dine in it. It is called iRev. And can seat 10 people at once in it. Costing not less than $ 24,000 and due to be out for sale by January 2010, this is an ultimate party experience. The Interactive Recreational Entertainment Vessel has circular decks to seat people.
In its little size, it has been fitted with and features a central low smoke charcoal grill that can be swapped for a number of other centerpieces, an outboard electric 2-5 hp motor with 8-10 hours of battery life, four storage bins, an integrated umbrella, and an optional audio package with marine approved 500 watt speakers, amplifier, satellite radio and a MP3 connection.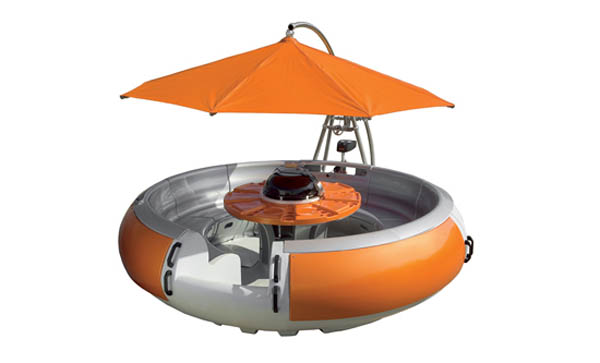 Call it a floating bar if you want to. But revel all the same when you float on water with the vessel, sipping your ale in the middle of greenery.
The American make piece is manufactured from 45 per cent reclaimed material, and is 80 per cent recyclable. It has been made by Motothority.
Via: Motothority