Nicolas Yvars promises to take you on a retro ride to remember on the new Leather X Proteur bike that he has created by hand using vintage parts and high quality leather. According to it maker, the bicyle is great combination of his three passions, which we shall share (do not fret) – leathercraft, streetfashion and luxury.
For the uninitiated, 'porteur' means a type of cargo bike which was originally used by newspaper sellers in Paris. Yvars has tried to recreate the same vehicle of yore. And this was no mean task considering that fact that it took the designer a year to track down the bicycle parts. Again, let us remind you that the man has created the whole thing all by himself except for the frame painting and wheelbuilding.
There are several strokes of a simple genius seen in the Leather X Porteur bike like the hip flask attachment under the saddle as well as the hand-stitched detailing on the leather tube cover. The hardwork gone into making this one is more than evident. The big tyres add extra comfort in riding this one. And if you are wondering where you could buy this one from, we are afraid that's not possible. Yvars is in no mood to sell and ride this beauty everyday!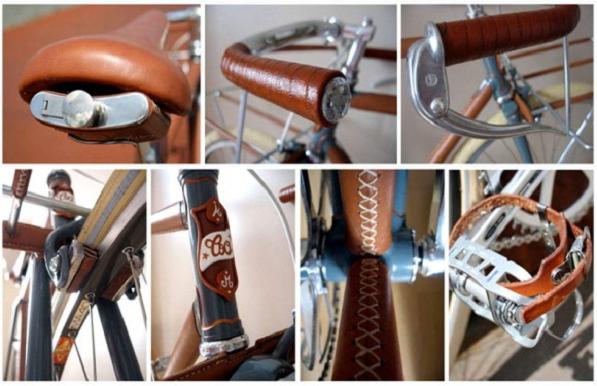 Via bikeradar