Integrating green design and eco-friendly aspects with the interior and the exterior of your home has become not only a high-end fashion statement, but a lifestyle that offers you freshness along with dazzling new designs. No longer are the green-geeks the isolated lot, but sophisticated and ultra-modern gang that invites enterprising new concepts and never before seen innovations into their homes. While many such gadgets take shape each day, nothing matches the feel of real greenery around you. Here 10 mesmerizing ways to go the natural way with elite delight…
JVC Sound Garden:
The Sound Garden from JVC is like a little sculptor from the magical Bonsai land. Designed to offer you an integrated sound system, hi-fi speaker system with bass-reflex ports offers enough space to put in tiny plants and shrubs. You can extend this hive like structure to create your own green audio hub.
Floating Fishtank Garden:

How about sporting a garden that floats on top of a fish tank and uses the waste of the fish as fertilizer for the green vegetation above? Really cool and completely eco-friendly, the Fishtank garden crafted by French designer Benjamin Graindorge relies upon nature's balancing act to create an inter-dependent indoor ecosystem itself! Absorbing nitrate pollutants from the water means that you rarely need to change the water in the tank and all that water ensures that your garden always stays fresh.
Green Indoors:

Designed by Ingela Viks + Liina-Kai Raivet from Estonia, Green Indoors is a concept creation that is sure set to light up your day with both its dazzling light and its green delight. The Green Indoors plant stand consists of a flat metal base fitted with a light filled tube with a matte cover to minimize glare. The stand automatically waters the plants accordingly and when there is enough natural light, turns itself off. Simple, elegant and providing a multitude of uses, Green Indoors is one concept we hope to see in shops very soon.
Elevation Garden:
IF you wish to install and maintain a grand green heaven in your own backyard, then Elevation Garden is surely the way to go. Stretching from the terrace, like a and unfolding beautifully, the walkway reaches out to a swirled seating area on the other side as it looks like a magical white pathway to a tropical paradise. The design takes inspiration from modern minimalist architecture and truly holds its own among other contemporary designs… Take home the blueprint folk!
Local River: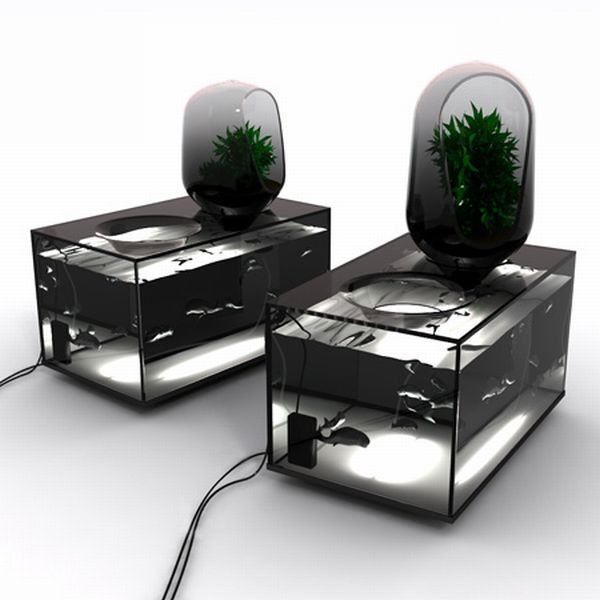 A simply audacious creation of French designer Mathieu Lehanneur, the concept of Local River is both unique and fascinating. Much like the Floating Fishtank Garden, but on a scale that is far grander, the Local River model ensures that you can grow some of the vegetables that you need on top of this fish tank. While the top part of the tank contains a green ecosystem, the bottom tank provides the nutrition to ensure its growth.
Lightpot: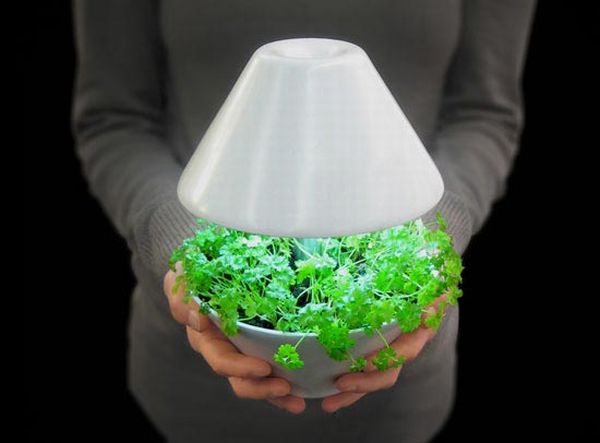 Lightpot may not be a whole green garden all on its own, but a few of these aesthetically sprinkled across your home are sure to spread some warmth all across. The concept is simple, pleasing and ergonomic, making it perfect for the modern home. Designed by Studio Shalub, the LED Lamp- tiny garden combo makes for a great green gift.
Suspended Gardens:
While these will not match the Hanging gardens of Babylon for their splendor and majesty, they are the modern version of the ancient pomp. By placing a green layer on the surface above architect Taketo Shimohigoshi finds new space with his moss-covered beams. Perfect for patio areas and other spots around the home like pathways which may not need that complete covering; this gives your home beauty from the outside.
Bel-Air Living Air Filter:
Another charming concept from Mathieu Lehanneur, these space-age styled air purifiers use the best available technology on the planet to give you fresh air- Plants. A design based on the current technology at NASA, the Bel-Air Living Filters offer a free-standing and eco-friendly solution to the problem of air pollution. Not only does it add beauty, but saves on energy big time… A must have for modern city inhabitants!
Timeless Garden:
Conjured up by designers Francesco Castiglione Morelli & Tommaso Ceschi, Timeless Garden brings home a green patch and a cool clock at the same time. The in-built mechanics of this advanced and ergonomic garden use the reaction between metal and soil to run the clock ensuring that not only you add a touch of fresh breath to your room, but do away with toxic batteries as well.
Ecohabitare:
The growing trend these days is to go up and grow vertically rather than horizontally. That is precisely what Ecohabitare, designed by Daniele Adamo and Ravel Casela, taps into. This circuit-board styled garden sits on your wall and ensures that your walls turn green as well… In a natural way of course!
With the eco-conscious wave spreading across the globe at a rate that it is, having plants indoors and sporting a lush green garden is well and truly fashionable and cool once again. It only depends on your imagination when it comes to how 'elite' it can get!!