It will be no surprise for you to learn that even the art market has not been spared in the economic hard times. Reports suggest that art prices have dropped as low as 34 percent this year. However the Art Basel, an exhibition of fine paintings in Switzerland, has pepped up things a little bit. Well, it sure has earned some good bucks as well as some mileage from the media owing to the big names in its list of clients.
Actor Brad Pitt has been believed to splash some close to $1 million bucks on a rainbow-colored racetrack painting called Etappe by Neo Rauch. The purchase was made at the booth of New York dealer David Zwirner.
Painted in 1998, this work of art represents an intoxiacting view of colors in the swirling driver behind a red, F-1 style race car while the workers nearby carry candy-colored hoses. AS per Kelly Crow, a WSJ writer, Pit eyed the 9-foot wide painting for some good 8 minutes, rubbed his goatee, fiddled with his tweed cap and walked away only to buy it later on the recommendation of major LA collectors Eli and Edyth Broad. Among other big names at the event, there was¬ Russian billionaire Roman Abramovich and girlfriend Daria Zhukova, Karl Lagerfeld and supermodel Naomi Campbell.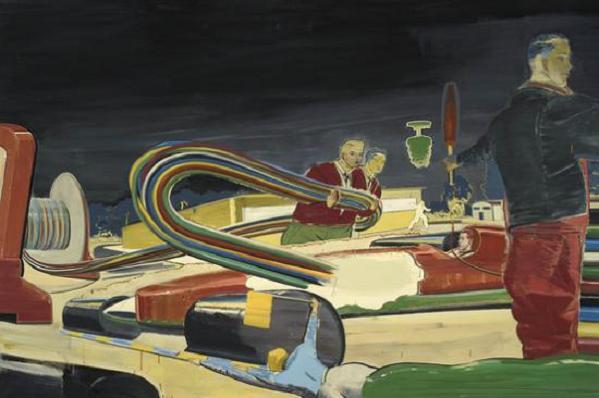 Via dailymail