When you're sitting down with a great game, you want to have the write gaming paraphernalia with you along with an environment that is as conducive to your gaming experience. Such an environment would also include just what kind of chair you are in.
You don't want to be sitting in a boring old armchair when you are going to have the most fun of your life. Take a look instead at the Morfojet. Designed by Gianni Pedone, the super cool armchair has been designed for Morfonauta and will feature at this year's Milan Design Week. The armchair is designed after jet turbines as two turbines linked together with the seat in the middle. The Morfojet has an entertainment unit built to heighten the pleasure of your experience. Rumour has it that the aerodynamically designed Morfojet armchair has two powerful 400w amplifiers, six tweeters, and a big 300w bazooka subwoofer.
With such an amazingly aerodynamic design, perhaps the armchair will fly off the moment you strap yourself in and set the music going. Only bad news is, the Morfojet is just a concept.
Â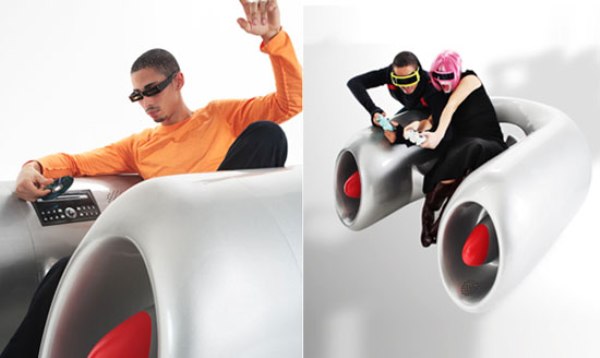 Via: DVice/DesignBoom