The concept of whaling may lead to heated disputes between different countries and animal rights activists. It is as yet unclear to me on which side of the battle this massive luxury yacht modelled after a whale is fighting on.
The Oculus designed by E. Kevin Schöpfer is a massive luxury yacht stretching to 250 feet in length. The Oculus is indeed meant for only an elite group since it can accommodate only 12 guests at a time. It includes a main salon, cylindrical dining room, central stair and elevator tube with 12 foot ceilings in a design that can blow your mind off. Extravagantly done, the interior decor reeks of comfort beyond luxury. The concept yacht can hit speeds of 25 knots but putting the decadently rich design aside, the most fascinating aspect of the Oculus is the fact that the backside of the yacht can open up resembling the hungry jaws of a whale.
An oculus is the blowhole on top of a whale's head by the help of which the mammal breathes and remains submerged underwater. However, there is no account of the Oculus being able to perform a nose dive.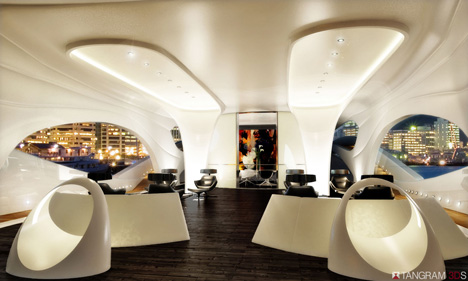 Via: DVice