Finally man's best friend is getting his due in luxury. Yep, a pair of Great Danes got their paws on a 250,000 pounds worth kennel which is being constructed on an exclusive estate in Gloucestershire.
The comfort of the dogs is of utmost priority for the architects. Perhaps that is why their bed are sheepskin-lined with a temperature control option. The pooches can also relax in the spa which gives saline treatment for better looking coats and howl along a 150,000 pound sound system whilst a 52-inch plasma TV shows their favourite Scooby-Doo cartoon.
Perhaps the economic recession is not being felt by the owner of the dogs, who is a surgeon and wants to stay anonymous. How else will you explain this extravagant affair that even provides automatic dispensers that provide chilled and filtered water as well as dry food? Dog-vision cams allow the owner to monitor the dogs while the furry beasts revel in the climate controlled environment. The architects do admit that the concept is a wee bit eccentric but it is fun for them to create a place from a doggy point of view.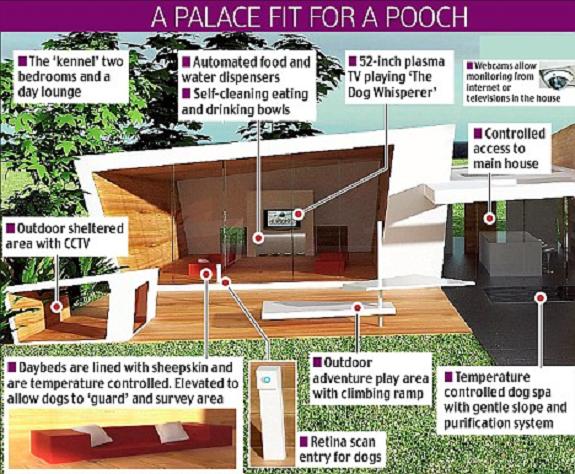 Guilty already for "ill-treating" you pooch. Well, we indeed have a long way to get there!
Via dailymail & trendsupdates