Camping could never be so comfortable before. You never know the new Tonke Camper may become the reason for those further extended stays in the rough terrain or perhaps even a road trip across the world. Holland manufacturers have come up with this ultra-cool camping van, that promises to give you a dose of comfort in the middle of nowhere.
The look of Tonke Camper is oxymoronic to say the least. Reason? Well, the outer body will give you the impression of a very basic camping facility but the interiors will have your jaw dropping to the floor. The trailer is just as comfy and inviting as your home. Loaded with a small kitchen, bathroom, bedroom and a cozy sitting area, don't be surprised when you perhaps would want to shift lodgings to this dream abode permanently. The strongest point of Tonke Camper is that the entire trailer can be dismantled and be used as a guest room or extra office space.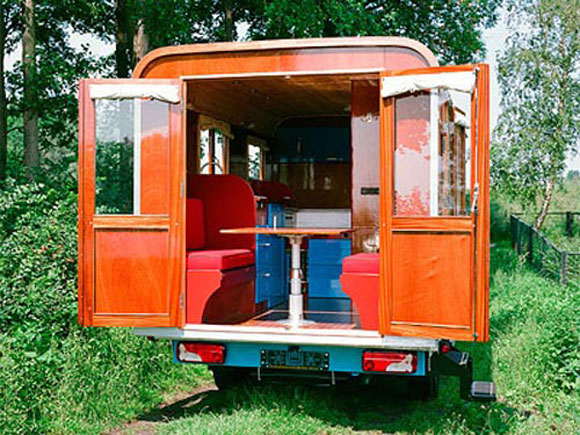 The manufacturers claim that the inspiratin for Tonke Camper came from old yachts and gypsy caravans. Available in two models, Explorer (just right for the Renault Master Van) and Fieldsleeper (designed for the Mercedes Sprinter), the modern camping car can be yours at € 70,000 (starting range). If the price is a little too high, do not worry because this trailer can very easily be rented out at around € 500 per week, when not in use.

Via lifestylebuzz/ coolhunting