This will surely set tongues wagging the moment people step into your house. You need only two qualifications to own this nerd-gasmic Raygun. A love of Steampunk and some serious money to burn. The WETA Steampunk Raygun will cost you anything between $4,500 – $7,900. Dr Grordbort's Rayguns are a line of 1:1 scale antique styled, limited edition(only 50 units), sci-fi hand weapon props. Above you can see "The Unnatural Selector". So, this is what WETA is doing when they aren't making big screen magic in Lord of the Rings.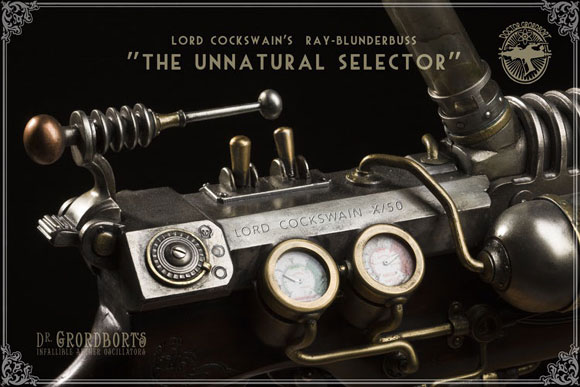 Its100% designed and crafted at multi Academy Award winning Weta Workshop in New Zealand and its major features are:
Ø The material is metal, glass and rare Venusian Worm Oak
Ø To add to the product a personal touch, the breech block will be engraved with your name and individual edition number
Ø Is endowed with triggers, levers and switches
Ø Comes with a custom built stand to make it more suitable for displaying on the mantelpiece or hanging on the wall.
Ø Certificate of Authenticity signed by Creators
Ø Packed in Grordbort's Laboratories sturdy, wooden delivery crate.
Ø Edition Numbers 1 – 9 Only: An illustrated "Raygun Operator's License" designed by Greg Broadmore with your name and photo
Ø The dimensions are: 115cm x 20cm x 30cm, or 45″ x 8″ x 12″( Length x Muzzle Cone Diameter x Height)for the Unnatural Selector and 65cm x 19cm, or 26" x 7.5" (Length x Width) for the stand
So before it gets too late, prepare to grab your edition because this, my friends, is some serious Steampunk.
Via SlashFilm / LikeCool / Lifestyle