Royalty in ancient India played a form of Chess called Shatranj. Sadly, all they had was silk cloth board and usual dice. If they knew about the latest artistic investment in the game of Chess, they would have been amazed. For instance, The Art Of War board and dice, designed by Victor F. Scharstein. Imagine rhodium and gold chess pieces dancing at your command on a decked up ebony board.
Every piece is tastefully decorated with diamonds, rubies, emeralds, sapphires and other precious stones. Even the legs of the board are all gold- having eight all gold balls. It will be priced at nearly $50,000. It is said that all other parts of the game such as the lock and the key, the hinges and the handle are made of gold. I can imagine how much motivation a thief will have to break open the lock and get away with it.
My other concern is that of functionality itself. Would not so much of glitter distract the attention away from the game? But may be that is also a positive point if you twist the argument a little.
Now you can call your friends for a game of Chess and win every game as they would be too busy admiring the glitter and gold to play the game seriously, at least the first few times! If, after all my convictions, this game piece does not appeal to you, check out the subtle yet classy transparent chess set here.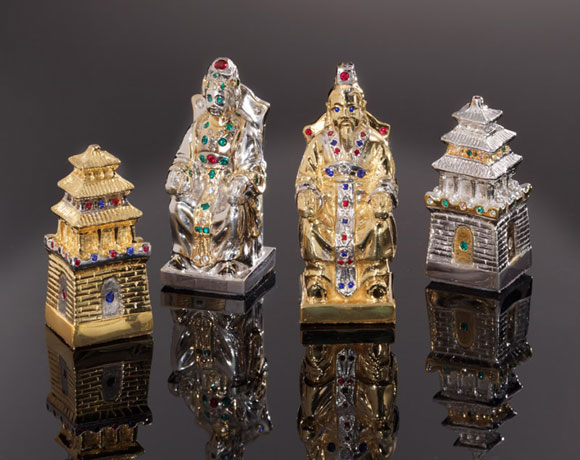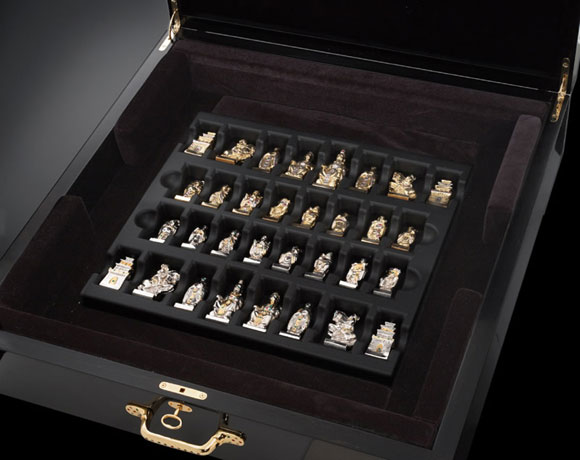 Via ArtOfWarChess