This oneís for the Apple lovers!!! Naah, not the fruit but the producer of iMacs and iPods, and now the iPhone. Well, letís hear it then. Heckler Design has come up with a cool piece of furniture which they lovingly call OneLessDesk. It comprises of two slim tables, one tucked under the other, and can slide out when required and serve as two work surfaces.
The larger and taller one can be used for keeping desktop computers and your decorative nick-knacks like your flower vase, crystal pieces, time piece and all that jazz. On the other hand, the smaller desk can be utilised for keep the keyboard, mouse and even laptops.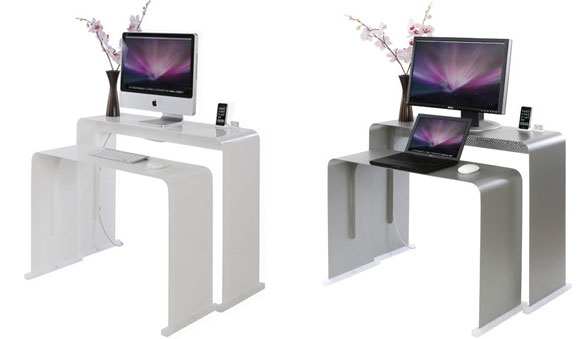 Coming back to what I was saying about the link between this desk and Apple; the OneLessDesk comes with in-built chargers for iPod models. Available in two models, the stainless steel is prices at $649 while the actual stainless steel model is for $1199, you can pick the one that suits you better and try the lab table experience even at home now.

Via doobybrain