Spend a month in the populated urban vicinity (if you haven't) and you'll get to see kids driving hard with mobile sound systems singing loud. Really annoying! But if you have spare amount of dough piling with you then this unusual model of DJ mobile car can be yours. Designed and developed by Dutch artist Olaf Mooij, the creation targets the filthy-rich music lovers. Coming from Western Europe, the Dutch novelty has been abridged by an intelligent mind after taking inspiration from "God is a DJ" and the car of our HOLY-POPE and the result is before your eyes.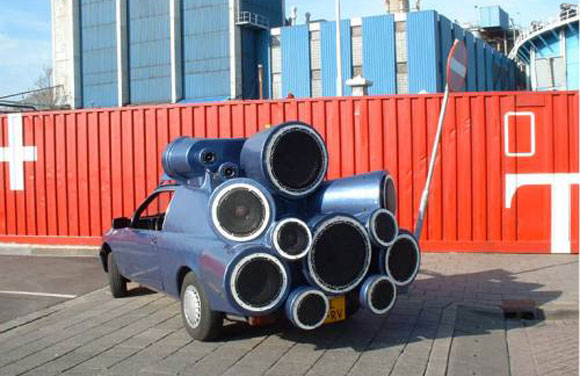 Embellishing aerodynamics, the mobile DJ art car nicely accommodate two turn-tables together with number of speakers. On first look, I doubt the functionality of the speakers attached on the face of the car and this arouses my curiosity to meet the Dutch national and ask him to untangle the mystery.

For sure, DJ Mobile car is developed using a drivable PA system that allows you to park and then operate from a DJ platform while hosting it from open sunroof.
Check out the video:
Via GearDiary / ArtCar