If that stale thought of contemporary helicopter being considered as mere compilation of spare parts flying in a fine arrangement bothers you, thereby making you revise your plans of getting one developed then here you may have a sigh of relief. Christened as Sikorsky X2, the first flight of the speedy helicopter was scheduled at the Schweizer Aircraft's rapid prototyping facility in Horseheads, New York and am glad to share that it was successfully accomplished yesterday. The 30-minute flight was a long anticipated marker as it was initially planned to happen around two years ago.
After the testing is done, it is being said that the dual-propped fly-by-wire speedster will explode through the air at 288mph, crowning it the fastest helicopter ever developed in the world. If all plans successfully meet a reality check then the X2's makers can consider the thought of its civilian production by 2010. Coming to technical specks, the X2 derives its power from a Light Helicopter Turbine Engine Co. (LHTEC) T800 engine that was formerly urbanized for the now obsolete RAH-66 Comanche helicopter.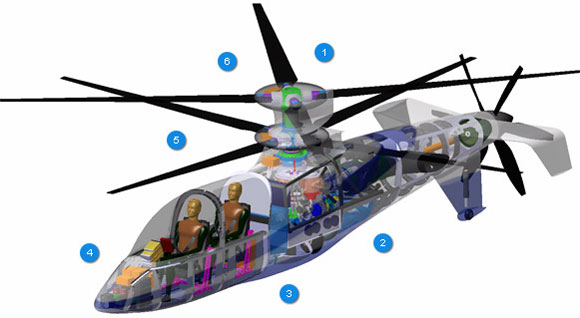 With its not-so-new design, the helicopter features fly-by-wire controls and sophisticated avionics that engineers wish will contradict the high tremor issues identified in other coaxial rotor designs.
Via PointNiner/ FlightGlobal