This one goes to Aila. I got a small mail from her a week back asking me to do a feature on chairs. It seemed that she had decided that I needed to change my lucky ( stinky, she says) chair. In case you could not guess, she is my brilliant house-keeper. Her trick worked, I did replace my oldie goldie, tempted as I was after comparing so many beauties in the market. I have tried to bring out the best features in each piece, without boggling the readers with too many details. Nevertheless, the ones that are mentioned are enough to make you decide which will be coming to your place.
11) Klini Sound Wave Chair is an Ideal Spa and Gym Combo The Klini Sound Wave is one product that does not come straight out of the head of one designer but is a result of patient research done over the years. This chair is like your Grand Ma sitting by your side and rocking you to sleep, says the users. This is not just a chair but a stress release therapy and a music player all in one. Though it may not play music that you want to, but it knows best what relaxes a tired mind-specially designed chakra alignment beats. If I have to describe it in three words I would says that it is a spa, treadmill and gymnasium put together. Price: $3000 plus shipping. 10) Jovial DVD Luxury Massage Chair: Beat it up!
Jovial Luxury Massage Chair Recliner is definitely your bet if you are constantly on the move. The logic by which the chair works is simple- one need only to change the beat of the music to alter the speed of massage! So, if you want high speed, you literally keep the beat up. The chair is highly flexible and any be used comfortably used by people of different built. It has lots of air bags at arms and back and its seat can stretch out to any position between 100 and 160 degrees. 9) Astone Sit N Joy: Goes Anywhere With You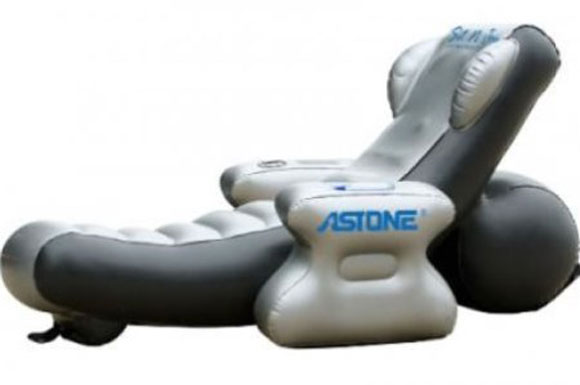 Astone Sit N Joy portable inflatable multimedia massage chair is one of my personal favourites. You may watch TV sitting on it while being gently massaged or better still take it into your pool and enjoy the 8-massage utility variants. Other features include in built speakers and a waterproof cubicle box. Price: $123 8) King Kong Eclipse D4000: Sensible Masseur
King Kong Eclipse D4000 offers you the same features that other massage chairs provide- size adjustments and multimedia experience. So, what distinguishes it from other brands is the fact that it uses Acupuncture points to massage your body. The best thing is that it automatically determines your frame and shifts the pressure points depending on it. Price: $5,999 7) Keyton Concept Massage Chair
The mother of all massage chairs, Keyton concept chair enjoys an edge when put across gamut of massage chairs. It offers an array of massage styles to choose from- sports massages, anti-stress, back, neck, sensitive lumbar massage and recreation massage. Apart from aiming to reduce your stress, it also alleviates back pain, Insomnia, heavy legs, neck pains and other life style related ailments. 6) D+S Surround Sound Chair: Attaining Glory
May look like any other run of the mill chair but is a winner if you look at it from the point of its sound system. In total it consists of five speakers: two in front, two surround and the last one a subwoofer. It provides a surround sound experience, thanks to D+S Sound Labs. It comes in a multitude of colors to choose from, at least 24 at present and may increase in the future. Price: $3,000 5) iBose Egg Chair: Will rock you!
Posh black looks, Retro appeal, vibrating effects, a classy iPod and more is what this contender offers us. The iBose Egg Chair do not like to connect it to Ethernet, you can make it Wireless by connecting it to any comp having Apple's iTunes or Apple Powerbook. 4) Lodge Chair With Built-in iPod
Now what makes this one different from others is that you can actually sit on the music apart from listening to it. If that appeals to you, perhaps you would not mind its not so comfortable back. The subwoofer and volume controls of Lodge Chair do not come in built in the chair but is attached to a geeky looking side table. 3) Tristar Massage Chair isn't built for the average living room
Do not go by looks but buy by features. If this is the mantra you follow while buying a gadget, perhaps you would not be put off by this piece. The Tristar Massage Chair looks much like a dentist's chair but works wonders on your feet, face and fingertips. Price: $7,807 2) Matrix Chair: A Nuclear oven
The thing that makes it a cut above the rest is that it comes from the torpedo lifting jaws of an actual nuclear powered nautical. Zoran Milivojevic, the mind behind this creation has taken full care of the ergonomics factor. Another thing, the manufacturers will happily customize the color and padding at your behest. Have a look at the price before you give a final verdict on it! Price: $37,000 1) Surf Chair Cum Workstation: Surf Ahead!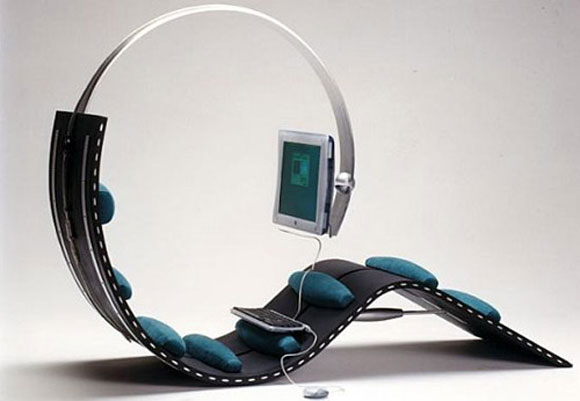 The Surf Chair workstation is the friend of web surfers that will take care of your back while you are merrily lost in your PC. Kenneth Lylover, the designer of this hi-tech chair fully understands the pain it is to be at your desk and has tried to cure it as much as a chair can. The chair has already won a laurel by begging the 'Best Product' award in a fair.
To check our previous anthology of Top 11, click here.