For rovers, who wish to travel more in sky than roads and welcome bikes above cars, here is healthy bait for them. Albeit a concept, the MotoPOD RV-10 is a cargo pod that can accommodate a motorcycle into a plane. Unveiled at Airventure 08, the cargo pod enables you to carry a street-legal motorbike in your jets abdomen along with a pin system, and a crane.
Accessible from its top, it takes only minutes to unfurl the handlebars, pull the bike out after landing and you are all set to burn the road. Lately, the MotoPOD unit was veteran with the company's customized motorcycles i.e. a four-seat Van's Aircraft RV-10 kit built experimental aircraft costing 9 knots airspeed during tour. Company claims to facilitate the feature in STC'd models viz. Cirrus SR22, Cessna 182 and other aircraft versions.
Availing this facility would mean getting additional 230 pounds to your aircraft and would demand a spill over for $10,000. Those who enroll now would have to pay petty $1,000, which again is wholly refundable if you happen to change your mindset. Word is around that they offer special bargains for early customers.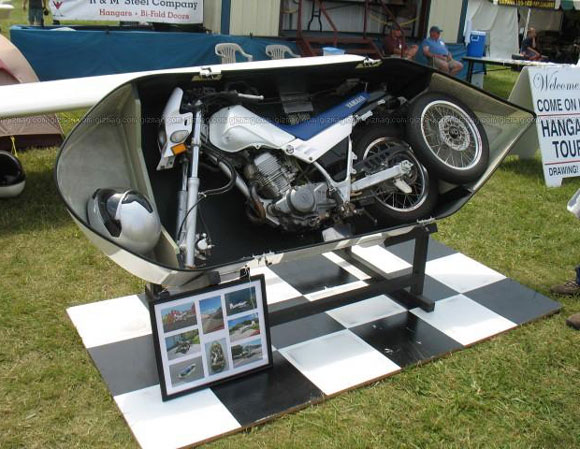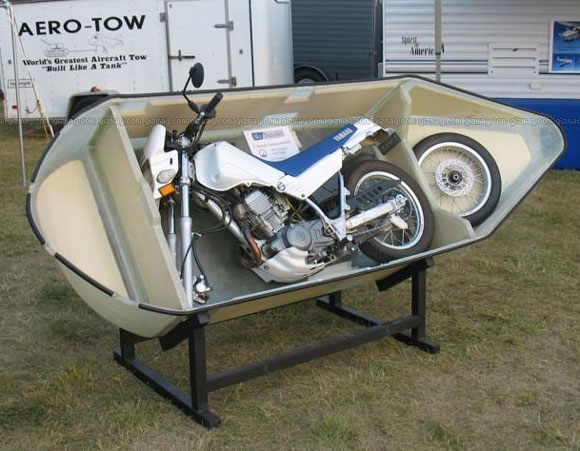 Via Gizmag / AVWeb