Cosmo Trike: Ready to Ride Over Three-Wheeled Hot Rod Motorcycle?
Paul Crove from KneeSlider had a chance to talk to Jason from Olmax Fabrication about their latest offering of Cosmo Trike. And the shared features for the three-wheeled monster are truly awesome. Owning a fiberglass body, it features an air ride suspension, a 24-inch front wheel and automotive wheels plus tires out back. Developed to accommodate across majority of riders i.e. From 5 foot even to 6 foot, the automotive engine parts of this bike are outsourced from different locations across the globe. It is manufactured using a 2 cylinder vertical twin, a Garrett turbo, hooked it up to a 4 speed automotive transmission and delivers a power of 70 horsepower, hence offering you an exciting cruise at highway speeds throughout the day . No, it is not a racer but holds its own value with the typical V-twin crowd.
It is equipped with a water cooled engine but the grill on the face of bike is quite misleading as you may be sure that it carries the radiator but to your much surprise the radiator is fitted under the trunk. Priced at $17,900 (the basic cost of the model), it is possible to replace the ordinary parts like air and oil filters.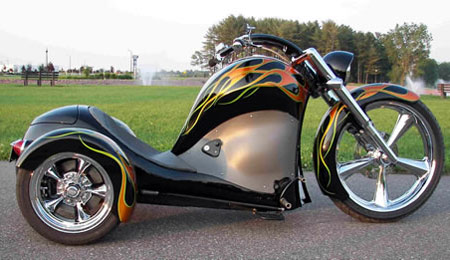 For now, you can calm down your curiosity by taking a closer look at it as Cosmo Trike is expected to be displayed at numerous events.
Via ZedoMax