When filthy rich folks Tony and Penny Caciolo were busy picking needful for their home theater setup, they took a call that the look and feel of the home should homage of their preferred place on Earth: the Italy segment of Epcot at Disney World. And they met success as the home has fallen up to their expectations'. This horrendous arrangement comes packed with forged storefronts and what appeals like the champagne room from a Staten Island strip club. And if you aren't aware then the pool offers a swim-under waterfall that leads to a cavern with a LCD TV within. For sure, the guys are thinking strongly to confirm something.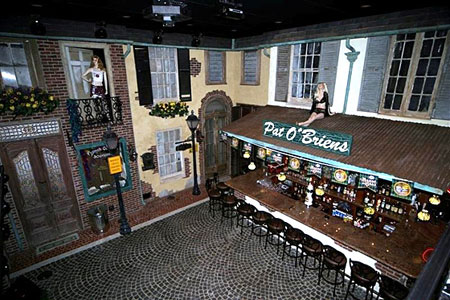 The Italian room comes equipped with a huge screen of 135 inches with a "Bourbon Street Room" in the basement that looks complete with an installed 170-inch screen and a full bar. No wonder, it deserves the tag of home theater as every single room, floor or portion has a pre-installed screen. Enter bedroom and you may have to face the 110-inch drop-down screen and 1080p projector and to add value to my aforementioned statement, do consider the 20-foot screen positioned on the side of the house for pool performance.
Spread over 15,000 sq ft, the house would offer a similar feel of a long walk that you end up making for visiting the nearby theater. One thing I wonder, how empty this house is despite being stuffed with the luxurious crap.
Via ElectronicHouse