Personalized Elevate Wrap Table Station
Featured here is another compact form of furniture that respects your wide range of needs. Called Elevate Wrap table, it aims at wrapping up your work surface around you by bringing everything in your reach and bring while sitting. The curved design of the table allows you to keep all your video editing equipment within easy reach. The Wrap effortlessly holds up to three monitors on Flat Panel Monitor Arms. Its easy shelf modification can be converted into a stand-up work position with a press of a button. It comes with a standard 1.5″ thick back shelf, 1″ thick front shelf, one cable trough, one horizontal cross brace, two shelf support arms, two leg assemblies, one electric keypad for vertical shelf height adjustment (27″ – 53″), two 2.5″ base tubes, one cross tube, one 10 ft. power cord and five 4″ casters.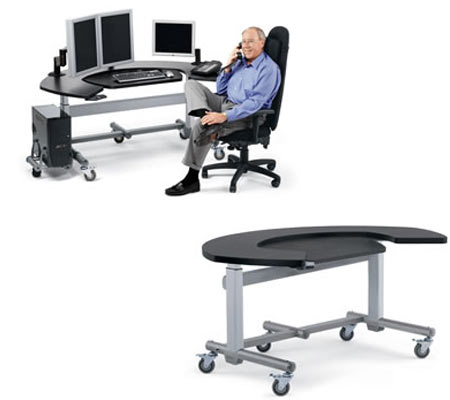 Retailed at $3,099, the table is available in two versions i.e. metallic (black and silver) and laminate (light gray and black).