There is no dearth of luxurious bath tubs but then also we keep on exploring the updated market that is populated with elite offerings now and then. Whilst we have introduced you to the fully-automatic Star Doyers dulce bathtub, Archeo copper bathtub and not to miss the haute rod pricey bathtub; the latest in the queue is Red Diamond bathtub.
Right on the heels of its name, it comes bathed in red shade with encrusted Swarovski crystals. This designer creation from the WaterGamesTechnologies aims at addressing a new definition to the world of bathroom luxury. Designer Aldo Puglielli features 2 HD waterproof TV on a mobile console with massive gold frame (42 g 18 k) that can be hidden with the click of a button. It accommodates a seating for two and offers all the necessary facilities that can beat your idea of taking a spa. You name a feature and it has it all including massage, multicolor lightning, champagne holder festooned with Swarovski crystals.
Monitored by electronic controls, it gives you access for long-bath making you free from the worry of filling it with water at right temperature. Above all, the integrated GSM module can control your bathtub by distance, thereby making you feel it up while riding in your car on your way back home!
Cherish the luxury: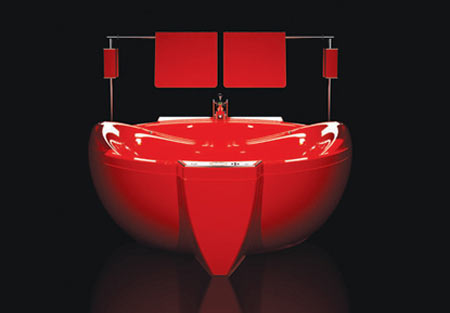 Via BornRich