Maraya, a 54 meters long vessel is no less than a myriad of lights and credit for this goes to CRN who developed this is association with Studio Zuccon International Project, dedicated to design the face of the yacht. Maraya falling in Arabic dictionary means "mirror," is a project entirely custom-built to meet the needs of the owner expecting lights to rule the ambience.
Renowned interior designer Claude Missir Agency worked upon offering state-of-art interiors that are highlighted by lights and mirrors all gleaming in bright shades. It takes pride in being the first mega yacht of the yard that utilizes the lighting system based utterly on the use of fiber optics and LEDs.
If figures make a difference to you then counted 600 points of light spread the charm. It features a front hall, open space for comfortable couches a dining space for almost 12. It also offers a traditional Jacuzzi of almost 2 meters in diameter and sun deck, equipped suitable for the landing of a small helicopter.
Few more: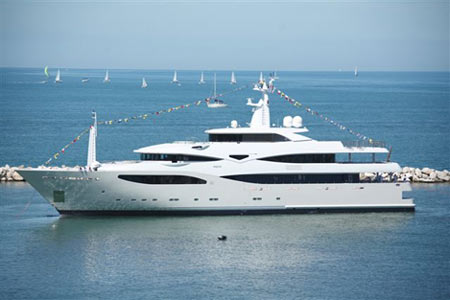 Via Deluxe