It's being a long that we have been hearing about coming of Verb shoes from VectraSense Technologies, an MIT spin-off company and now finally they are out in the market for sale. Designed by MIT graduate Ronald Demon, the hi-tech sneakers are equipped with two air bladders, monitored by an integrated computer that mechanically regulates padding and air pressure based on the movement of the wearer. The idea behind the design is not only dynamic but comfortable as well.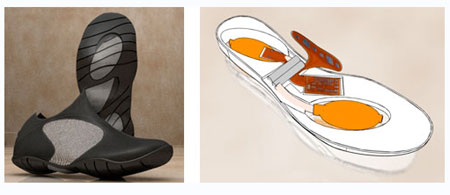 It offers you an access to maneuver the shoe's fit wirelessly via computer and if it falls short to meet your 21st century status then it's incorporated wireless networking would enable you know the whereabouts of other nearby Verb wearers to swap over any personal data if you desire.
Retailed at $700, the wireless mode is activated via tipping the foot vertically and keeping it the same way for five seconds.
Via TrendHunter