And Sotheby's is again heads up for another jewelry auction at its Geneva-based auction house. Scheduled for 15 May, the auction accessories include an oval-shaped diamond ear clip, diamond encrusted tiara, diamond corsage ornament, fine enamel and diamond cocktail watch by Cartier, cabochon sapphire-set ring and many others.
The diamond ear clips from the collection of Lily Marinho comprises of two clusters of pear-shaped diamond, weighing 11.08 and 11.66 carats and are expected to fetch between $ 1,200,000 and $ 2,000,000.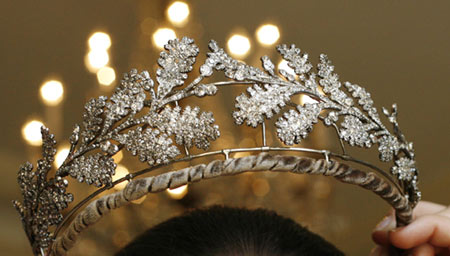 Set with diamonds in the shape of oak leaves dating back to 19th century, the tiara is expected to generate sales of $60,000-$100,000.
The diamond corsage ornament signed by Vever is from the French Belle Epoque jewelery collection and are anticipated to reach $ 155,000-$235,000.
Another highlight of the auction is a fine enamel and diamond cocktail watch made by Cartier in 1924.
The watch was given in the 1930's by the Duchess of York Elizabeth Bowes-Lyon to her personal companion Katta Maclean and today is expected to fetch $6,000-$ 10,000.
The facsimile autograph of Elizabeth Bowes-Lyon is featured on the overturn of a very fine enamel and diamond cocktail watch.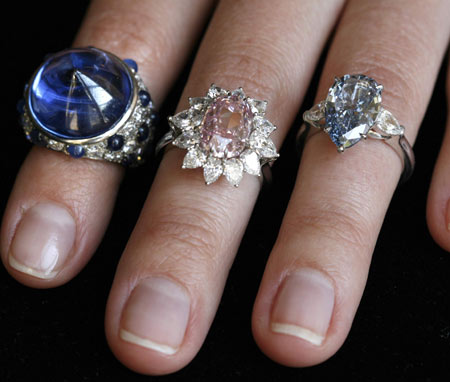 Also, the cabochon sapphire-set ring dating from 1930 (L), a fancy vivid purplish pink diamond ring (C) and a fancy vivid blue pear-shaped diamond are expected to reach between $ 20,000 and $ 30,000, between $ 2,350,000 and $ 2,850,000 and between $ 2,800,000 and $ 3,500,000 respectively at Geneva-based auction on 15 May.
Via Sotheby's