If you are having a window-less office and suddenly feels suffocated then here is a solution. Put down the mallet and install these ersatz skylights or seemingly windows right from the Sky Factory. The variety of sky ceilings and radiant virtual windows offered here are picturesque chimera that offers a beautiful outdoor appeal (albeit virtual) to the inhabitants while staying in windowless den only.
How does it work? After fitting in every unit into the typical ceiling or window grid structure, it breeds fluorescent or LED daylight-balanced backlighting to equally augment the gaze besides promoting a sense of well-being. You would be surprised to know that the daylight balanced light used here is one that is required to treat seasonal affective disorder.
I am sure installing these in a gloomy ambiance of your office would make your productivity go two-fold. Also, if you are thinking to revamp your office or home interiors then there cannot be an innovative way than this.
More pics: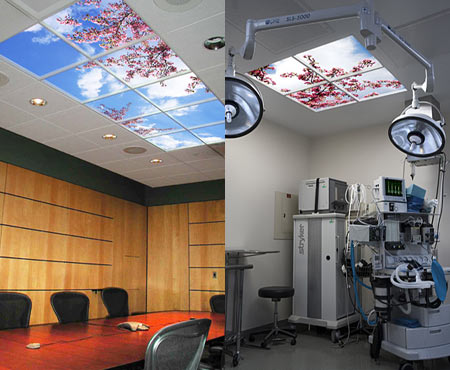 Via BoingBoing