And here comes another product to express your love for your poochie. If fit-fur-life treadmill and luxurious pet pavilion has convinced you then surely this elegant Ellipse pet bed ($799) is what your pet needs next. Designed in a simple pure elliptical form in bent plywood, this bed comes layered with a variety of veneers and adds value to any room.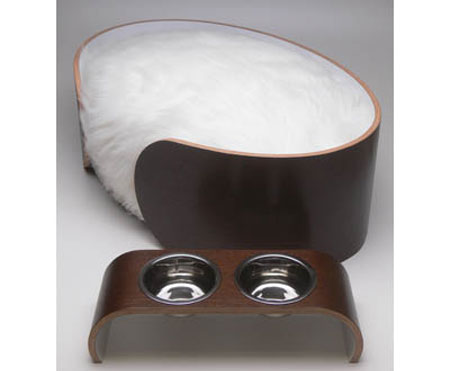 It is a perfect fit for any sized dogs and its USP resides in its furry cushion. The material used in its making include mallet aluminum, bamboo, cherry, maple, pebbled aluminum, and wenge. It comes with an integrated cushion in your choice of faux fur or Crypton super fabrics. Both fur pillow and covers are easily washable while Crypton cushion is not.
Crypton is a specially-engineered fabric system with an incorporated moisture barrier that promises enduring feat. Ready to be shipped from Canada, it would take 2-3 weeks to reach your place.
Dimensions:
Medium size: 32″L x 21″W
Large size: 32″L x 39″W
More pics:
Via VitaminDesignSource