Ah, the very reflection of a beautiful dame walking seductively through the ramp, sprawling her red evening robe as she bestows concluding strokes to her look for the evening and thawing into the arms of her beau seems like an ideal situation for a quixotic evening. And blessed is that lot of fashion bloggers and journalist who capture the first hand experience.
If trends are any indication in fashion industry, Lesley Scott, Editor in Chief, Fashiontribes visible efforts and recognition seems to be justified. The credit for Lesley making up to Elite Blogger series goes to her dedication towards religiously populating her blog with worthy news pieces. Beginning this year, I did a round-up of 2007 Elite blogs and fortunately Fashiontribes falls amongst that lot as well.
I couldn't stop myself asking Lesley giving an insight about 'she' behind Lesley and the proactive blogger agreed to talk at length to my readers shedding off their ignorance levels about fashion industry.
Here I would like Lesley to take it further:
Introduce yourself to my readers and take us through your typical day at work.
I am a blogger running a fun fashion blog called Fashiontribes.com which I update every day with the latest fun fashion news, trends, runway, must-haves, shopping, and style advice & tips.
Let's start with some background info about you. How did journalism come about and what made you mark out 'Beauty, Style and Fashion' as your main areas of writing?
I came to NYC to attend Parsons School of Design to study fashion design, and ended up paying the bills on photos shoots as a fashion stylist. I also freelanced as a Senior Editor for Coolhunt.net, an international style trendspotting firm, where I reported on the trends from New York and wrote monthly articles which appeared in a wide variety of international lifestyle publications, including Marie Claire Asia, GQ Taiwan, 25 Ans (Japan), and Elle Girl Korea. Along the way, I also worked with some smaller indie fashion magazines (now defunct, of course), but the experience of running the editorial side proved invaluable.
In addition to writing articles, I snapped street fashion photos each month, and quickly came to realize that the way stylish people were dressed spoke volumes about more than just their taste in clothes: it told you where they liked to hang out, how they liked to spend their time (and with whom) it spoke to their lifestyle. So each month before submitting my photos, I would put like with like, pattern began to emerge of five or six general groups, which because of the lifestyle angle, I dubbed the tribes.
And then, about four years ago, my mother passed away from Breast Cancer, which made me rethink my whole life, and six months later in her honor, I started Fashiontribes.com. Initially, it was comprised of six fashion e-zines, customized to the main six tribes I had identified. (However, the magazine for the avant garde nightclub-hopping crowd had to be dropped because anyone with in-depth knowledge was too busy living the life to edit a magazine about it.) The tribe concept seemed to resonate strongly with readers, but, like most small startup magazines, I promptly ran out of money. To keep publishing my content, I started the blog. At the time, blogging was still very much in its infancy, and barely anyone knew what the word meant. However, advertisers have since come to appreciate the large audiences that bloggers have, which enables many of the more popular bloggers to support themselves now doing it full time.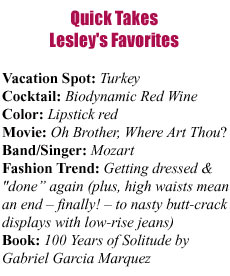 What according to you do words like 'Beauty' and 'Fashion' mean?
Truthfully, with enough money, you can wear head-to-toe designer and keep up an active routine of cosmetic procedures and look good. Yawn. What I enjoy about fashion is the creativity I love seeing the fashion shows and marveling at the fact that designers from around the globe, working on their collections in utmost secrecy, still create collections that are on trend. And I love seeing how creative fashionistas put together outfits in unexpected ways that mix high with low, designer with vintage, expensive with thrift store. If you can put together that kind of combination and have people not think you're an insane bag lady, well that's fashion. And that's what I try and bring to my readers: I weed through all the runway photos and edit it down to just what the important and interesting trends, and then suggest real life ways to bring it into your wardrobe. As for beauty, it's so interesting how something that at first looks odd to the eye later is considered the height of style; when the fashion trends change, the more cutting edge designers like Dries Van Noten, Martin Margiela, or Viktor and Rolf will propose changes in silhouette or proportion, and then lo and behold, a few seasons later, it's selling out at places like H&M.
In my own case, when looking at new fashion collections, if something catches my eye in a less than positive way, it actually makes me pay more attention to see if it means that change is in the wind. Rather than just paying attention to what everyone has decided is beautiful, it's far more interesting to try and find the beauty in something you initially thought ugly.
Are you contributing to any other channel as well? If yes, allow my readers get a nerve of your articles.
I currently write mostly for my own site. I recently was interviewed about eco-chic for RadioWithATwist.com on one of their nationally syndicated shows (on PLJ in NYC), and I have a few fashion & style pieces appearing in a new magazine launching in May called GothamDigest. I've also written for the main publication in The Hamptons, Dan's Papers, and wrote regular columns on Fashion Designers for Suite101 . I've also recently re-launched the five Fashiontribes e-zines at TribalRunway, and when writers miss their deadlines, I fill in with articles there.
While I love-love-love fashion, let's face it, it's not brain surgery, so I always try to add a humorous twist. And I spend a good deal of time even with my blog posts trying to make sure they're as well written as possible. Bloggers don't have the best reputation for being high quality writers, so I do my best to make sure my own content doesn't conform to that stereotype.
Provide me with two favorite posts of yours from FashionTribes
I recently did a really fun, in-depth post related to the Sex and the City movie. Carrie is in this fabulous floral dress with a short sleeve cotton floral coat, and while deconstructing the look for my readers, I was initially stumped by the coat. The fabulous movie costumer, Patricia Field, had selected a vintage coat which meant it was one of a kind and then it hit me: a summer-weight kimono! Not only are these affordable often under $100 they can easily be tailored, and they are available in a huge variety of beautiful florals to match whatever sundress you choose to go underneath.
The second post I quite like I did a while ago, when Olivier Theyskens first sent ruffled, floor-length skirt suits down the Rochas runway that looked straight out of the Gibson Girl era. I conjectured that the rise of the Victorian influence in fashion and lifestyle mirrored a similar class struggle taking place during the Victoria period: that we are similarly dealing with a class struggle based on the fact that many new millionaires and the new power classes include women and minorities rather than the traditional white male. So, while the post was admittedly a bit out there, it still turned out to be a fun way to show that fashion reflects the state of the world, and can be more than just frivolous (in fact, I like to think of it as a chic peek into the collective unconscious).
What inspires you?
I love My Fashion Life, Fashion Toast, Susie Bubble, and Coquette all interesting and done really well, with a distinct point of view.
At Elitechoice, I cover lifestyle related products designed for elite class. What is your take on existence of pricey accessories likewise world's most expensive shampoo, handbag, bikini, lipstick and others at 80 World's most expensive things. Does it mean that budgeted fashion products fail to define style.
I actually love the world's most expensive anything it tells you a lot about what we value as a culture. It also provides people with room to dream and to covet, which is half the fun of fashion plotting to have something, saving for it, hunting it down, getting to the top of the waiting list, and then knowing that not everyone out there has it. Fashion, by its very nature, is about what's limited and exclusive.
Products that sell at mass market prices can still be stylish; what makes them so is how the person buying it incorporates it into their life. For instance, French shoe god Pierre Hardy recently did a line of summer shoes for the Gap. Each pair sold for under $100, and I couldn't believe I could finally have something designed by the man in my closet. His normal collection is far outside of my budget, but his touch was still obvious on the mass market version. What's interesting is that no where on the Gap site did it mention they were by Pierre Hardy; you had to be abreast of the fashion news to know, so they still managed to inject in an element of exclusivity. Many fashionistas can't afford the $2000 YSL Muse bag, so when something similar is available at less expensive prices, it enables them to enjoy the design, where they otherwise never would have. Here's a fun post I did a while back about the trend in exclusivity:
You are known to be first to blog and podcast directly from the NYC Fashionweek runway shows. Tell us about your experience with NY Fashion Week as a fashion blogger. Against the past culture, how justifiable is it to say that fashion bloggers get their due respect during fashion weeks?
When I first started covering fashion week as Fashiontribes.com, most fashion PR firms were quite snobby about the Internet. However, from writing for all the various international publications, I had built up a rolodex of connections which I used to gently persuade them to let me give it a go. And as one of the first, I've always gone out of my way to behave as professionally as possible, so as not to poison the well. However, there have been a few badly behaved bloggers who have ignored the rules and etiquette, behaving obnoxiously during backstage interviews, or ambushing high ranking editors for guerilla-style interviews, which then makes it that much more difficult to gain access the following season. At this point though, I've been covering for Fashiontribes long enough that access isn't a problem for me, but that's not the same for newer bloggers, who still get their requests for both interviews and media credentials turned down.
I would say the respect issue is definitely changing, especially as the fashion business has realized just how many readers we have and that, yes, bloggers can behave professionally.
Is Fashion Week Still Relevant? Or it is been seen as a ritual?
Ah, interesting question. I've often wondered it myself. Since most of the free world only ever sees the clothes as photos online or in print editorials I don't know that it's completely necessary anymore to have to physically attend a fashion show. However, what is beneficial is connecting (and re-connecting) with people in person everyone is in town at the same time, so scheduling meetings, interviews, and face-to-face time couldn't be easier. And as they say, much of success is dictated by who you know.
Which designer collection for Spring 2008 can be expected to dominate the minds of fashion fanatics?
Any fashion fanatic worth their salt tends to be devoted to Balenciaga, YSL, and Chanel, along with Jean Paul Gaultier, John Galliano, Viktor & Rolf, Dries Van Noten, Yohji Yamamoto, Missoni, Marni, Stella McCartney, Prada and Marc Jacobs.
Which designers are blessed enough to top your favorite list.
I love Viktor & Rolf, Yohji, Comme des Garcons, John Galliano, Karl Lagerfeld, Jean Paul Gaultier, Olivier Theyskens, Stefano Piloti, Nicholas Ghesquiere, Rick Owens, Martin Margiela, Giles, and London fashion badboy, Gareth Pugh his stuff may not be the most wearable, but it's always interesting to look at and think about.
What are your favorite online reads or blogs besides fashiontribes?
StyleBubble
FashionToast
MyFashionLife
CoquetteBlogs
Suggest top 5 must-haves for Spring 2008?
1. Gladiator style sandal;
2. Full skirt or high-waisted trouser (or both!);
3. Something floral (shoe, dress, blouse);
4. Bright colors, tribal prints or something with a safari'ish look;
5. Giant accessories (doorknocker earrings; a huge chunky necklace; an endless stack of cuff bracelets; golf-ball sized cocktail rings)
Your views on Traditional Journalism V/S Blogging.
I think bloggers are probably less constrained in their opinions by advertising concerns. Many bloggers are not afraid to publish a bad review of a fashion show or a new lip gloss, while traditional magazines tend to stay away from that so as not to lose one of their main advertisers which no doubt makes readers wonder how much of what the editorial is actually just a product pitch rather than a genuine recommendation.
Where do you see fashiontribes after five years from now?
When lists are compiled of the Top 10 fashion blogs, Fashiontribes.com is usually included. Naturally, competitive fashionista that I am, I'd love to eventually be considered #1.
What is the revenue-generation model behind fashiontribes? It is obvious that fashiontribes is amongst the growing publisher list of glam media. How much is your monthly revenue generation particularly from your association with glam?
I am able to blog full time thanks to advertising revenue. I currently have an advertising exclusive with Glam, however, the ads that are served do not influence my editorial content in any way (unless it's a product I think particularly cool). As long as the ads remain of fairly high quality and I'm not embarrassed to have them on my site, it's all good .I love been able to blog full-time (The days when I paid the bills working as a fashion stylist, and after having worked a long, grueling day would finally sit down to file a story is something I don't ever wish to repeat I enjoy writing when I'm clear-headed and not constantly exhausted.)
Funny thing that dominates your mind but not yet materialized
Actually trying to buy fewer shoes.
Your Biggest Achievement
Staying the course with Fashiontribes.com until it became successful
Your advise to bloggers covering fashion?
While it's fun, it's also work blogging day in and day out. Know that to build an audience, you have to update consistently, and instead of simply copying other blogs, do your own ongoing research to stay on top of what's new and interesting that will give you a unique voice
What style interests you?
I was recently watching The Umbrellas of Cherbourg with Catherine Deneuve, and they matched the clothing and the wallpaper it was completely, completely fabulous, making me want to redecorate and match!
Who is your celebrity style mate?
If I could hijack the wardrobe of Corine Roitfeld (French Vogue EIC) I would do it in a heartbeat
What do you think about EliteChoice?
I love the fact you cover the best of everything how fabulous!!!
Your Turn! Feel-free to ask me one question.
What do you like best about what you do, and what makes it unique in your opinion?
Talking Particularly at professional front, I reckon it's my originality and uniqueness of the news that makes me stand miles above from myriad of bloggers. EliteChoice is one of the best breed of the blogs (with sole creature) that values everything worth valuing. It accommodates every essential product, news, event and any other area that has a potential to rotate eyelids. No one in blogosphere has come up with such an elite face of the blog. Whilst other think delivering niche sectoral news is their core, I take pride in ruling the wider platform.