Striking Helicopter cum Airplane Simulator
Sitting in a flying airplane is a common thing but flying in a flying plane is something not everyone can do. But here you have an opportunity to materialize your reverie of flying an airplane or a helicopter in absence of official license. You may label it as a toy and fun ride onto it but the experience in this toy is unbeatable. So, go ahead and calm you're your flying desires via this full motion helicopter / airplane simulator inviting bids at eBay starting at $100,000.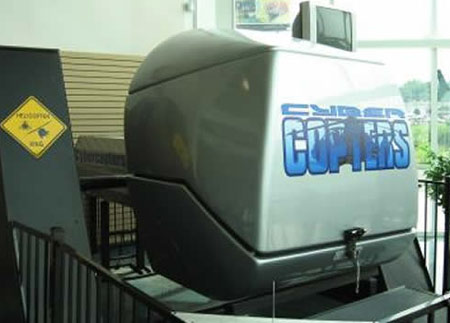 I don't mind if you count it as a toy for Richie Rich class but possessing this luxury offers a level of satisfaction. This simulator can take you high likewise a helicopter flight or as an airplane journey as controls fitted for helicopters can easily be used for airplane as well. With Microsoft flight SIM and battle flight software, the screen is positioned at about 3 to 4 feet distance from the occupants. This provides a genuine feeling of being in authority. In the fight program, WWII aircrafts and other helicopter replications viz. Apache, Comanche, Little Bird and Huey can be attained. All you need is an empty speed of 15? X 15? with at least 14 feet of height to install it. Only two days left for possessing this toy as the bid ends on 10 April.
eBay