The 36th International Exhibition of Invention has witnessed the presence of almost 700 plus creative minds from across the globe. Amongst the pool of products, the duo that rotated the eye lids of audience there including me is the Self Making Bed designed by Enrico Berruti and 'Trespolo' by Italian Cosimo Letteriello. These creations are clearly developed for too lazy or too smart geeks. Had I being asked to tag the event, I would have donned it as 'For Extremist Geeks'.
Dubbed as "Selfy the EasyBed," the self-making bed together with its two lateral arms can handle any bed linen and features machinery on its edges with tubes on which one wraps the sides of the duvet linen. A small push of the button would activate the tubes to flat over duvet linen, while the belts at the side will squeeze and offer finish to the sheet. Plans are to start with its commercialization soon if it manages to get a positive response.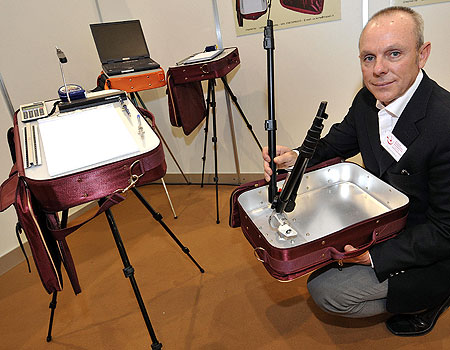 The Trespolo (tripod) is a case that can be transformed into a workstation for your emergency requirement in absence of tables. Its portable feature is what would make it the first thing to be picked by any geek while travelling.