I wonder if it is me or just a mere thought of living away from the populated metropolis amongst virtual clouds or a series of pre-fabricated helium balloons. Those who have seen Starwars back from 70's and 80's can recall floating city in the clouds called "Cloud City". If not then let me help you remind that. I am pointing towards a lively city on a planet named Bespin.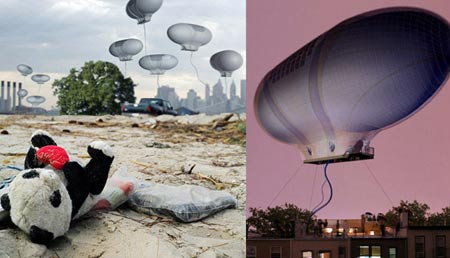 The conception of Cloud City witness people living in the pre-fabricated helium balloons, which is a lovely feeling. The thought is the result of a design competition that asked people to come up with different concepts for a New York City if its meets any disaster. Studio Lindfors developed this idea as "an enriching experience that will allow the public to remain integral as they heave themselves out of the debris.
These homes behave no less than airships deployed to serve affected areas. It can house four-people from each family protected by four personnel for an hour, be inflated and makes you feel self sufficient in power as solar panels could be joined to the apex. Three indispensable apparatus required for its effective working include an inflatable bladder, rigid core and a metal/wood platform. Isn't a beautiful feeling glaring at a butchered place from a height being fixed by workers? Look deeply into the pictures and tell me how cool, crazy or cranky it is.
Via Gliving.TV