An established German company CarLoft has carved out a solution for the safety of your coupe. This revolutionary practice can resolve all your outlandish parking problems, thereby offering you a peaceful sleep making you free from your fears of wheels being cluttered or stolen.
The functionality is here. Now you can drive your car via a big lift to your flat from where you can drive it towards your balcony and park it there. I think a deeper look at the pictures would clarify what this solution can do. All those, who love their car more than their wife, should access this solution so that their car can sleep next to them and not in the garage. More so, the CarLoft has unveiled the loft apartment for you. A glass wall divides your grand garage from your living billet, thereby inviting appreciation from all your friends, family and acquaintances. Plans are in progress to have CarLoft living spaces erected in such European cities viz. Berlin, Frankfurt and Hamburg and many others.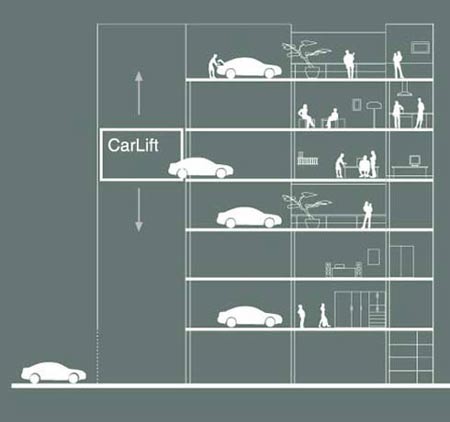 The lofts, which vary in size i.e. 2,411 sq ft to 5,802 sq ft are retailed at EUR 450,600 ($536,844).
Via Freshome