Clutches are amongst those accessories that not only enhance your appearance but define it. I hope you all elite people out there concede to the significance of clutches in giving a new dimension to one's personality altogether. I suppose that an efficiently chosen clutch can actually make you a distinguished persona in your circle. Many times, I have witnessed my friends ogling at my clutches with enviable eyes, which is why am intensely particular about the clutches I carry.
Here is an exceptionally stylish and elite clutch that I think every fashion lover would dream of possessing. This designer clutch by the very renowned Judith Leiber is fascinating to the extreme. It looks incredible with the vivacious shades that make it so amiable. The Austrian stones and crystals of a large variety of colors add splendor and majesty to the product. These crystals and stones have been immaculately glued manually. The creative artist has lent an idyllic touch to the piece.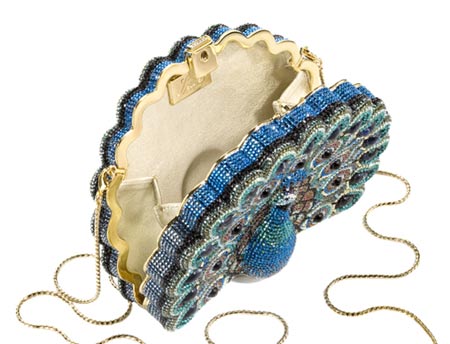 I can only say that it is a great work of art. I really don't have words to express the magnificence of this marvelous accessory. No doubt, it is too costly for ordinary people to afford. It is worth $5,295. Indeed, great art is meant for a 'selected few'. Hope that you are one of those 'chosen few' who get the honor to possess such incredible piece of art.
Via Thebaglady