So, its time to announce another Elite Blogger, the one ideal enough to fit into the shoes by contributing to an elite geekipedia viz. Wired. With a perfect bent for knowledge, optimistic approach to work and desire to carve laurels, Rob Beschizza is now a renowned name in the realm of gadget bloggers. Contributing to the gadgets section, last month Rob was neck-deep busy covering CES 2008 and now he has managed to extract time for us from his busy schedule and has penned down his responses to handful of questions, not all. But believe me guys, its still a must-read.
Dive into his interesting set of responses.
Rob, kindly introduce yourself to my readers.
I write for Wired, sometimes in the old-fashioned sense but usually as the lead at its Gadget Lab blog. I'm used to be a web designer. Pittsburgh is my home now, but I grew up in England.
What is the USP of blogging according to you?
One of the distinguishing features of blogging is that it cultivates expression and immediacy over deathless prose.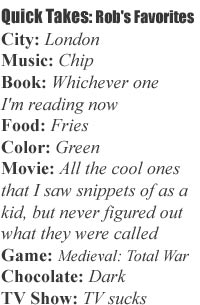 Calling wired as blog would be a limitation on my part. How do you manage to capture people, places, ideas and trends' onto your platform.
True. We aim to cover gadgets and technology with an eye on future living. It's something that runs eerily parallel to the real world, these days, rather than an old-fashioned vision of tomorrow. You're never sure if a gadget or trend is a near-future possibility, or a secret present that we're being cheated out of.
How many posts do you manage to play during a day?
On a typical day, I'll write about a dozen posts. But there's a lot of variation, as we write stories, produce graphics, reviews, hands-on tests, and all the other stuff that make Wired's Gadget Lab such a great read.
What is your target Audience?
Our target audience is anyone who thinks that personal technology is about life, not just a lifestyle accessory. People who'd let it under their skin, literally.
If not blogging, then??
To relax, I write stories and mess around with computer programming, but also like making digital art and music. If I wasn't news writing for a living, I'd be pitching fiction or trying to wrangle my way into game development.
Tell us one hidden truth about you.
The stuff which isn't hidden is more important.
Five favorite similar platforms or blogs besides 'wired.com'.
Favorite blogs of mine include Threat Level at Wired, the Boing Boings, the Athanasius Kircher society, Ectomo and RockPaperShotgun.
Any regrets?
No regrets. Yet!
Any favorite posts
I don't really have any favorite posts of mine but there are many bad ones in the way.
Advice you have given yourself 5 years ago
On blogging itself: Ask me again when I've been doing it for five years!
Many thanks for considering the interview proposal and spending valuable time over it. I am sure my readers would enjoy reading it. Wish you luck Rob for your future endeavors!