Now and then we have been spending time upon getting best-of-best furniture, chairs into our home, just to meet the design or style statement. But gawd, I ponder did you ever spent even minutes towards the existence of elite chairs for special people. Chairs that allow handicapped people to do what they want, go where ever they want and follows their instincts. With iBOT 4000 Mobility System, the revolutionary mobility device, everything that seems to be impossible becomes possible. It opens broad horizons for disabled people. Independence is a word that describes the nature of these chairs.
The sophisticated mobility chair walks on four and six wheels depending on what mode or function it's in, it would be wrong to tag it as mere wheelchair. Discovered by Dean Kamen, the iBOT 4000 makes use of sensors, gyros and computers to maintain balance amongst its two wheels, thereby enabling it climb curbs up to five inches, traverse uneven terrain, help reach high shelves and climb stairs independently.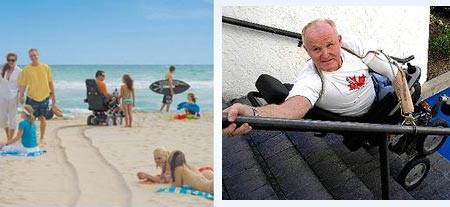 Prerequisite: You must weigh between 75-250 lbs and know the art of operating a hand-operated joystick, must productively complete a driver training program and test.
Via iBotNow