The modern artwork by gamut of renowned artists' viz. Jeff Koons, Damien Hirst and others have united to contribute towards the AIDS relief in Africa via a unique auction in New York visualized by Hirst and rock star Bono in harmony with Gagosian Gallery in Chelsea. Scheduled on Valentine day, the sales generated through this Sotheby's auction of contemporary work invited by world's leading artists would be donated to assist HIV/AIDS relief programs in Africa.
Around 100 artworks, all enthused by the red shade are exhibited at the gallery and would catch eyeballs till 13 February before the scheduled auction on 14 Feb. The long list of contributory artists includes Hirst, Jeff Koons, Georg Baselitz, Jasper Johns, Matthew Barney, Cecily Brown and Douglas Gordon. It is been anticipated that it would generate more than $40 million that would be given to the United Nations Foundation to support HIV/AIDS relief programs, a fight against AIDS, tuberculosis and malaria. Out of the lot of 83, a major count is being exhibited to be available for Valentine's Day auction and have the red vibes attached to it, no matter as a thematic element.
Top pic: Take a look at the painting titled 'Sunday Lunch' by artist Subodh Gupta (L), a sculpture by Tim Noble and Sue Webster (C) 'Metal Fu****g Rats with Heart Shaped Tail' and a painting called 'All You Need is Love' by artist Damien Hirst (R).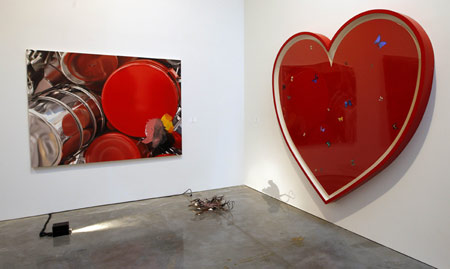 Also, a woman walking past the Jeff Koon's 'Balloon Rabbit Wall Relief' (L) and Takashi Murakami's 'Red Flower Ball (3-D) are amongst the highlight of the auction.