Icehotel, touted as world's first ice hotel has hosted more than 200,000 people in the history of 18-years. The hotel witnessed its 18th season on 7 Dec., 2007 and has plans to swarm 29,000 people in its 80 ice rooms, bar and chapel this season. The hotel will be open till mid April. The creation of this hotel begins every year in November. Doing away with the usage of bricks to give it s form, it purely depends upon the tons of crystal clear ice from the Torne River near the village of Jukkasjarvi in Sweden, till the time it dilutes into water the following season.
The inspiration behind this model hotel is of a Japanese ice sculptor, who was engaged in Jukkasjarvi in the early 1990s. Floored away by his work, French sculptor Jannot Derit requested him to generate an exhibition in an igloo constructed on the Torne River. It was this 60-square-meter Arctic Hall that invited the attention of the foreigners' as there was a dearth of lodging in Kiruna and they choose this igloo to spend their night. This led to the formation of the hotel.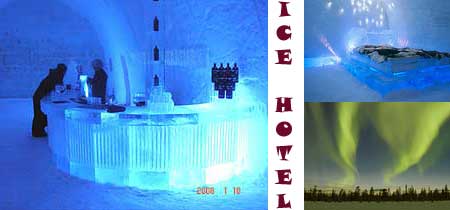 With a room temperature zero minus five degrees Centigrade, one night at this hotel would cost you $800 plus while a six-person standard room costs $400. It features 80 rooms, 58 standard rooms and other specially designed suites by artists from all across globe. Besides an elite stay on the ice beds, other activities here include wilderness camps, husky tours, fishing on ice, northern lights Aurora and snowmobile safaris. You would be surprised to know that all glasses and chairs here are made of ice. Guests here can order a drink for 13 euros and the following ones will cost them 10 euros (only before the glass melts).
Via TurkishDailyNews