This one is an exception in the sphere of a bland iPod speaker dock. Identified as the BooM China, this striking production by TwinMOS is being introduced to commemorate the Chinese New Year and cheering China in its hosting of 2008 Olympic Games.
Created in cahoots with a conventional Chinese painter TwinMOS asserts the new speaker to be the blend of "art and technology" fitted into china vase design and can easily be installed next to your Mum's mantelpiece.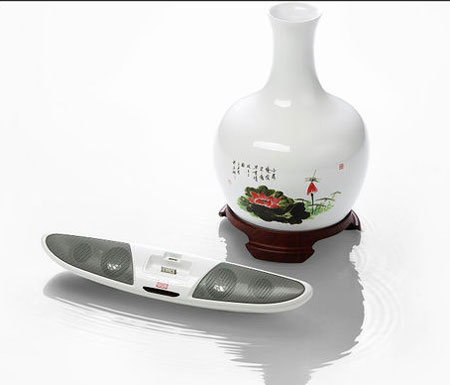 It is attuned with the family of dockable iPods. The 2.1 audio system offers 8 watts per channel and a 25 watt subwoofer. It comes equipped with remote control, stereo mini jack followed by some mobile phones as well. The BooM China boasts a USB port, TV Out and SD card slot. It is anticipated to be available for sale by March and can be purchased from Urboom for £179.99.
Via PocketLint