Elite Estate: Ring House Honored As Best Private House
My curiosity aroused after hearing that the Ring House has bagged the award for being the best Private House by the Wallpaper Design Awards 2008. What made it make up to this platform? What is its USP? Having peeled into this house I realized that the weekend house is a beautiful blend of creativity, design, and environment. And for this three cheers goes to the innovative architects behind this model viz. Makoto Takei and Chie Nabeshima (TNA).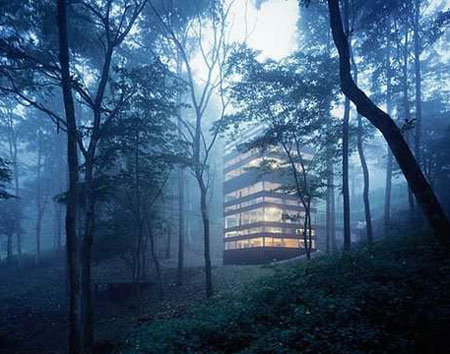 On demand, architects were asked to design a weekend retreat miles away from the jostle and commotion of the Tokyo life. And they did it! Positioned right amid the lush green flora and fauna of Japan, it is just at a two-hour drive dividing the city dwellers from eco-paradise. It is surrounded by the delicate, glass and wood mini-tower. The huge but not so-intense makeup creates a retreat to revitalize and revive its populace. The incessant 360-degree vantage points in the Ring House makes you stand next to nature from within the four boundaries.
Gallery: The Ring House
Via Wallpaper