Long talked about graffiti artist Banksy work on London wall finally fetched 208,100 pounds ($407,000) at a scheduled auction at Ebay against its earlier anticipation of £1,000,000.
This would be merely a metre tall and mostly hides behind a wheelie bin in a narrow Melbourne laneway. The work reflects an artist in traditional attire giving a final touch on the word "BANKSY" spray-tinted in red, was scribbled on a wall on the Portobello Road in the west London district of Notting Hill. It is being said that before putting the work up at eBay, the seller shielded the piece with a plastic-sheet.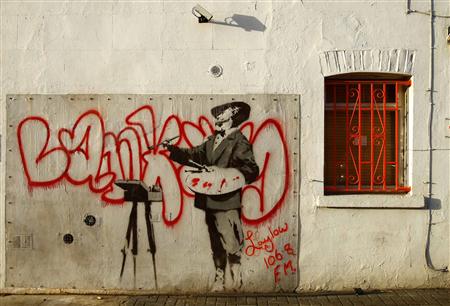 This artwork invited 69 bids for the mural, enclosed in a Perspex screen, on an peripheral brick wall.
Via Bloomberg