17th Century Handcrafted British WarShip Demands $18,900
We have been informing you about latest models of yachts but the one featured above is unique in its concept, form and usage. This custom-made ship is 100% scratch built and its body is embedded with variety of wood including cherry, walnut, chestnut, oak and pine. The scale of the model is 1/96 and measures 27″ (L) x 12″ (W), and 25″ (H). It has 5 diverse deck levels with plank-on-frame structure. You would be amazed to know that around 1,175 working hours were invested over it to create this edifice, which is made up of 10,000 pieces and has about 61′ of rigging. Its unbeatable craftsmanship is getting its worthy appreciation and makes it stand away demanding a proud owner.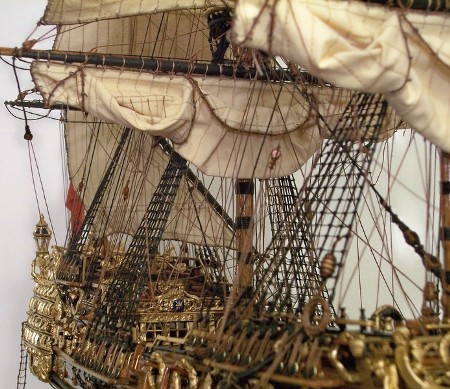 The supplies used for producing this model include wood, wire, threads, and cloth and this is what adds beauty to the sails and flags. The beautiful model is priced at $18,900.
Cheers Den!
Gallery: 17th Century Handcrafted British WarShip
Read