World's Oldest Rolls-Royce Is Most Expensive Ever, Sold For £3.5 mn
And here sets another record with the auction of world's oldest surviving Rolls-Royce earning a tag of being the most pricey veteran car till date after generating a sales of £3.5 million plus at a Bonhams London auction house.
This 1904 Rolls-Royce 10hp Two-Seater car is the fourth one to be produced by Charles Stewart Rolls and Frederick Henry Royce. What made this car most valuable one is its old-age….ooops. But true as its being 103 years that it was first driven from a small factory in Manchester. Initillay, the price anticipated for this valuable car was £1 million but to everone's surprise it generated £3,521,500, the highest ever paid for a car in the veteran category. The prerequisite charted by a private British collector for winning this bid ensured that it will stay in the UK.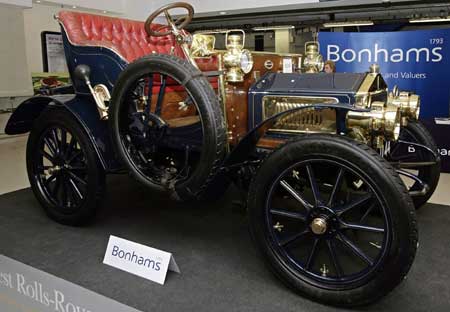 Sir Alan Sugar, celebrity professional and former co-founder of Amstrad computers, ended up making a bulky loss of £5,500 by picking Bentley S1 Continental Sports Saloon that he bought from Sir Elton John for £200,000 at an auction in 2001 and sold it for £144,500.
Around 100 other cars and motorcycles got sold extracting almost £10 million. Other cars that contributed to the total sales of £10 million include the Brunei Royal Family's Bugatti Super Sport Coupe and a Panther De Ville Saloon once owned by the celebrity actor Oliver Reed.
Via TimesOnline