Here comes autumn and auction houses are bombarded with an array of old-aged, contemporary artwork that is eternal in nature. A hoard of Asian art, Chinese jade and porcelain is set to go under hammer at Christie's auction house on 28 October in Hong Kong. The international auction house is anticipating it to be the record-breaking auction in this voracious market. The Sales generation expected out of this auction is net $231 million. The items would be on display from 25-29 November and would feature gamut of top-notch modern and contemporary art, regal ceramic, a renowned compilation of Chinese jades as well as jewels, necklaces and watches.
Among the attractions of the auction, there is a set of 15 Chinese objects of art enthused by the West including a rare Beijing enamel glass brushpot, a blue and white "Boys" Ming jar, a large bronze figure of Guanyin, the goddess of mercy and a tranquil creation of Taiwan port oil painting by Chen Cheng-Po. The auction is all set to drive the curiosity of its visitors by offering a stunning medley of innovative creation of frenzied smirking sketches by Yue Minjun and a colossal sequence of "gunpowder" paintings by Cai Guoqiang. "Market Scene" by the Dutch painter Rudolf Bonnet would also get worthy respect here. The great work carrying prominent sauce and grease marks on a browning print is expected to fetch $500,000.
Below are the featured artworks that are inviting eyeballs:
A rare Beijing enamel glass brushpot adorned with European "mother and child" pictures from the Qianlong period on the four-sides is expected to generate $3.8 million.
A blue and white "Boys" Ming jar that would generate nearly $5 million.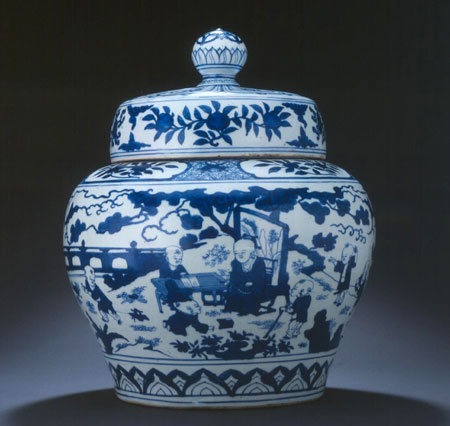 A huge bronze sculpture of Guanyin, the goddess of mercy that is expected to be sold for $4.5 million.
"Danshui at Sunset," a calm Taiwan port oil painting by Chen Cheng-Po might earn the label of being the most expensive Chinese paintings ever sold at an auction.
Via Reuters