Away from Kevin Major's historical fiction No Man's Land, the much-in-news No Man's Land Fort positioned over ocean is still on its hunt for would be proud owner since July. Yah, if you have the courage to stay away from the crowd of people or best is if you love isolation then this fort could be your next destination. It could be yours on a drop of $8 million.
Designed like a remarkable giant donut-like composition, it resides around 60 feet from the base of an ocean and is shielded by gigantic shatterproof walls. The man-made island is located off the coast of Portsmouth in the U.K., as it was created there to guard against the French navy. Initially, it used to lodge up to 80 soldiers and has a geek grade attached to its name as it was the facet of one of the episode of Dr. Who.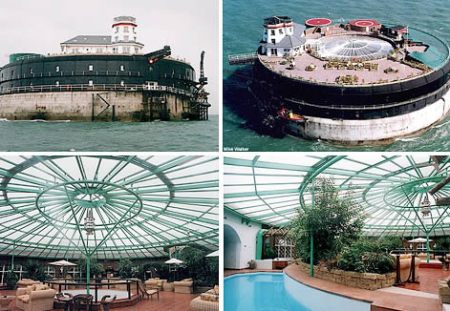 Tracking back to its military days, the Fort has been constantly refurbished considerably. Its previous image of a private dwelling went under hammer and came out into new avatar of a luxurious hotel packed with features including a heated swimming pool, 21 themed rooms, Jacuzzis, two helipads and two restaurants.
Accessibility to the fresh water from the sea water can be attained via bore. The roof of the garden flaunts appealing and enduring plants and a gym offers you a feel-fit pill. In July, it was essayed to be sold for about $8.2 million.
Via Uber Review