Jukka and Fatboy together offers an ultimate 21st century comfort. Yah, now what do I mean by 21st century comfort? This must be the only thought lingering in your mind. Right!
Multi-functional, flexible, adjustable, comfortable, understanding, cheerful, these all are the traits of today's busy man but fortunately the fatboy's creation shares a great commonality. This masterpiece can be used as a flooring in your living room, as a carpet on your terrace and even as a zone relaxation at the office.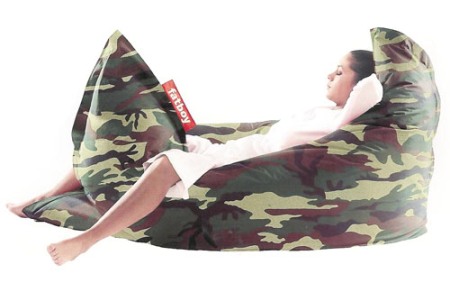 It becomes an ancillary bed once laid on the ground (140 X 180 cm) and the credit goes to its elegant cover polished in tight fabric nylon and anti-stains. Cleanliness is not an issue here as it can be unsoiled with a wet mop along with a little soap. The airy fabric of the cover assures the ultimate comfort to you. Its anti-fire feature offers us an opportunity to carry it in bars or hotels to enjoy as per our ease. Original is available in variety of colors.
Price: $351 (249 Euro)
Designer: Jukka Setala
Manufacturer: Fatboy
Measurement (inches): 70 (L) X55 (W)
Read