Days back we were aghast to witness the shades of Red and Green at the occasion of World's tallest man 2.36 meter tying wedding knot with his bride Xia Shujun 1.68-metre. But to my much amaze, the similar shades in carpet flooring are embracing. Unlike other ordinary carpets, this world's largest handmade carpet is larger than a football pitch.
Woven in Iran's north-eastern province of Khorasan, around 1200 weavers were engaged to produce this unique since past 18 months. The carpet is ordained for a mosque in the United Arab Emirates.
Measuring 5,625 sq m (60,546 sq ft), the seemingly one-piece carpet was made in nine separate segments and then interlaced into one with 2.2 billion knots.
Price: $5.8m (Rs23 crore).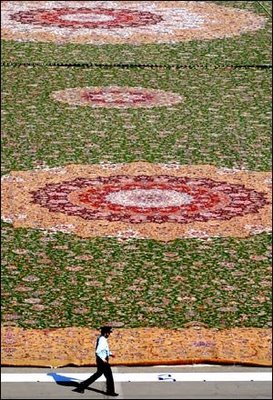 More pictures after the jump.