The Hydropolis Undersea Resort-work in progress
Designed by Joachim Hauser, this 10-star underwater hotel– the Hydropolis Undersea Resort is a $500-million project. Positioned in Dubai, the 60% base of the hotel is surrounded by water. Around 1.1-million-square-foot of area is equipped by a shopping mall, ballroom, island villas, restaurant, high-tech cinema, a missile-defense system for your safety in 60-feet underwater and 220 theme suites. Soon expected.
The Lunatic Hotel
Beyond stars, think of leading your life on a satellite. Designers Hans-Jurgen Rombaut and Wimberly Allison Tong & Goo (WATG) are engaged in giving their best shot to build a hotel on moon by 2050. Hans identifies the engine as the 'sensation engine' that will allow guests to "indulge in low-gravity games with the help of two 160-meters high slanting towers."
Commercial Space Station Skywalker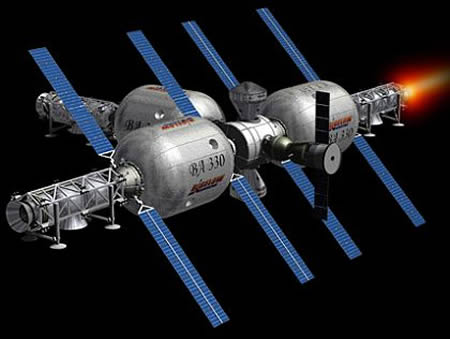 Enjoy the cosmic experience in the Commercial Space Station Skywalker. Designed by Bigelow Aerospace, Las Vegas, this inflatable space hotel is expected to be located 515-kms above Earth. The anticipated cost of the project is $500 million but to rent a night here will pitch you $1 million. The preliminary phase, Genesis I was launched from Russia last year and the news is the human space complex will be accessible by 2015.
Foldable hotel pods
Like portable ipods, now the hotel pods can also be set in distant locations. Isn't it fun?
This allows you to enjoy the beauty of the place and once tired can pack-up your accessories and hunt for next hotspot. Designed by m3 Architects, London, the cost of the foldable hotelis expected to be in between $72 to $104 million.