Luxurious Sofa for your Dog (my Simba)
Now the tables are turning. Your pet won't jump in your bedroom to have a good sleep but the possibility is you might rush on his sofa for a tight sleep. Yes, even the definition of home écor has undergone a dialysis, revamping the entire personality of your home. Away from the beautiful accessories, designer outlets today are engaged in producing designer furniture for you, your kids and your faithful dog.
The latest accessory that is in demand is the sofa cum bed for your pets. Inspired in the classical tradition of Le Corbusier designs, this is an interesting model made in Italy.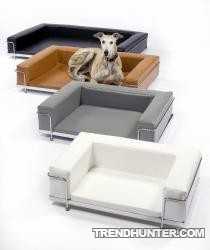 "If you love your dog and you love furniture, consider getting yourself and your mutt a Dog Sofa. This piece comes with all sorts of options including size, color and construction materials. The cover is both removable and washable, which is a must for dog furniture in my opinion."